LIVE-AVATAR
ONLINE ESCAPE ROOM
FROM YOUR HOME
Unfortunately due to the Covid-19 situation we can't open our escape rooms in Berlin yet. As an alternative solution we have an offer for you: for an additional 15€ you can play our online escape rooms (original price: 109€)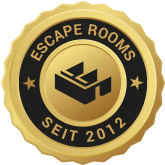 ESCAPE ROOM GAMES WITH YOUR LOVED ONES
UNIQUE EXPERIENCE
In escape games, you write the plot and get to be the hero!
CHALLENGE YOURSELF
Solve all tasks and shed light onto secrets. You'll need your skills, creativity and a little courage!
GREAT TEAM EVENTS
Escape rooms are where you build an efficient team! Only working closely together can lead to success here.
Absolutely fantastic game with excellent game masters!!! Highly recommend it!!!!
Mark Hanko
We had to convince our teenagers and twenty "somethings" to do this game. I think they thought it would be too easy. But that was far from the truth. Not only was it super fun but really taxed our brains as well. I would recommend it to any teenager or adult. We all had a great time!
Danna C
This was a great addition to our munich stay. The kids loved it and really got into the game. So much is virtual nowadays and this was a real situation to stretch the brain
Catb