SUMMER SALE
TEMPERATURE IS RISING - PRICES ARE FALLING!
BOOK A ROOM NOW FOR ONLY €89.9 INSTEAD OF €129.9!
*THE OFFER IS VALID FOR BOOKINGS FROM MONDAY TO THURSDAY!
Bremen
Munich
Nuremberg
Online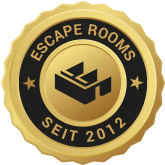 ESCAPE ROOM GAMES WITH YOUR LOVED ONES
UNIQUE EXPERIENCE
In escape games, you write the plot and get to be the hero!
CHALLENGE YOURSELF
Solve all tasks and shed light onto secrets. You'll need your skills, creativity and a little courage!
GREAT TEAM EVENTS
Escape rooms are where you build an efficient team! Only working closely together can lead to success here.
It is challenging, funny and exciting! Playing games in real instead of using a Playstation - you really feel human again!
s99016
Absolutely fantastic game with excellent game masters!!! Highly recommend it!!!!
Mark Hanko
This was a great addition to our munich stay. The kids loved it and really got into the game. So much is virtual nowadays and this was a real situation to stretch the brain
Catb