XMAS SALE
GIVE AN UNFORGETTABLE EXPERIENCE FOR YOUR LOVED ONES! Buy gift voucher now with 50% discount!
*Gift vouchers can be used from Monday to Thursday and only from 9 January 2023!
Bremen
Munich
Nuremberg
Online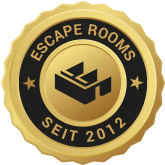 ESCAPE ROOM GAMES WITH YOUR LOVED ONES
UNIQUE EXPERIENCE
In escape games, you write the plot and get to be the hero!
CHALLENGE YOURSELF
Solve all tasks and shed light onto secrets. You'll need your skills, creativity and a little courage!
GREAT TEAM EVENTS
Escape rooms are where you build an efficient team! Only working closely together can lead to success here.
I went there with some friends and it was so much fun. ""Madness"" was really challenging but we managed to exit the room with little help from the very friendly operators. We'll be back!
Vrivravreni
Super! Do it, great fun! It is challenging, creative and worth the money. Staff is nice, helpful and explains all you need to know.
Christian V
The escape rooms were very cool and advanced! Many nice riddles and lots to find out. We had a great time Solving them! Very much appreciated!
MarkLichteveld