Christmas Sale!
No gift idea yet?
Escape room vouchers with up to 50% discount!
*VOUCHERS CAN BE USED FROM JANUARY 8, 2024!
Bremen
Munich
Nuremberg
Online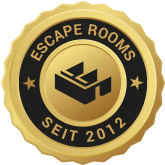 ESCAPE ROOM GAMES WITH YOUR LOVED ONES
UNIQUE EXPERIENCE
In escape games, you write the plot and get to be the hero!
CHALLENGE YOURSELF
Solve all tasks and shed light onto secrets. You'll need your skills, creativity and a little courage!
GREAT TEAM EVENTS
Escape rooms are where you build an efficient team! Only working closely together can lead to success here.
Absolutely fantastic game with excellent game masters!!! Highly recommend it!!!!
Mark Hanko
I was a little bit sceptic about this game. After we managed to get out, I realized that I didn't feel how the time was gone and how fun it was. Тhe game requires concentration, analytical thiking, simple math and team work to do it. Qualities that you can use all together for one hour and see the result. I recomend to try the game out. P.S It doesn't matter which country your comming from, you do not need more than A1 English to play
irina_burmova
The escape rooms were very cool and advanced! Many nice riddles and lots to find out. We had a great time Solving them! Very much appreciated!
MarkLichteveld